Unforgettable Quotes by Underminers of true Biblical Christianity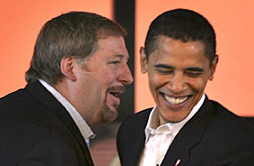 Today there really aren't that many Fundamentalists left; I don't know if you know that or not, but they are such a minority; there aren't that many Fundamentalists left in America ... Now the word 'fundamentalist' actually comes from a document in the 1920s called the Five Fundamentals of the Faith. And it is a very legalistic, narrow view of Christianity." Quote by Rick Warren, May 2005
---
[Fundamentalism is]"one of the big enemies of the 21st century." "Muslim fundamentalism, Christian fundamentalism, Jewish fundamentalism, secular fundamentalism - they're all motivated by fear. Fear of each other." - Rick Warren, January 2006
---
"Christianity IS an eastern religion. It has all its roots in the East! It's a bit baffling to me that people lose sight of this, and insist on creating a false separation [see note below] between eastern religions and (apparently) western Christianity." Mark Oestreicher, Youth Specialties
---
"Emergent doesn't have a position on absolute truth, or on anything for that matter. Do you show up at a dinner party with your neighbors and ask, 'What's this dinner party's position on absolute truth?' No, you don't, because it's a nonsensical question." Tony Jones at the 2005 National Youth Workers Convention
---
"My goal is to destroy Christianity as a world religion and be a recatalyst for the movement of Jesus Christ," McManus, author of a new book called The Barbarian Way, said in a telephone interview. "Some people are upset with me because it sounds like I'm anti-Christian. I think they might be right."—Erwin McManus, from The Barbarian Way
---
"With practice, you can develop the habit of praying silent 'breath prayers'" Rick Warren, from his book (p. 299)
---
"[U]se
'breath prayers
' throughout the day, as many Christians have done for centuries. You choose a brief sentence or a simple phrase that can be repeated to Jesus in one breath."
—Rick Warren,
The Purpose-Driven Life
, p. 89
---
"Does Buddha have anything to offer non-Buddhists in the workplace? My answer is a wholehearted, 'Yes.'
—Ken Blanchard,
co-author of the
One Minute Manager
, from the foreword and front cover of
What Would Buddha Do in the Workplace?
---
"Spiritual ecstasy. The third phase of contemplative prayer ... a supernatural trance state ..."
Charisma magazine, Oct. 2004
---
"Contemplative prayer is nothing other than coming into consciousness of what is already there." Brennan Manning, The Signature of Jesus
---
"Brennan (Manning) is my friend, walking ahead of me on the path toward home. As I watch him from behind, I am drawn to more closely follow on the path..."
Larry Crabb
, endorsement of
Abba's Child
---
"I began practicing meditation, specifically breath prayer, once again. I integrated the use of Tai Chi and yoga" John Michael Talbot, Interview with Christianity Today 10/22/2001
---
"[Y]ou and I may have strong opinions on double predestination, supralapsarianism, and biblical inerrancy, but these should not be considered evangelical essentials." Richard Foster
---
"We're rediscovering Christianity as an Eastern religion, as a way of life."-- Rob Bell, Teaching Pastor Mars Hill Bible Church from The Emergent Mystique, Christianity Today
---
"Today I personally believe that while Jesus came to open the door to God's house, all human beings can walk through that door, whether they know about Jesus or not. Today I see it as my call to help every person claim his or her own way to God." Henri Nouwen, Sabbatical Journey
---
"Isn't it a pity that people are going into LSD to have spiritual experiences, when we have a tradition in the Church [contemplative prayer] which no one knows anything about?"
source
Thomas Merton
---
"My acquaintance with eastern methods of meditation has convinced me that … there are ways of calming the mind in the spiritual disciplines of both the east and the west [and] many serious seekers of truth study the eastern religions,…"
Thomas Keating
---