Our Background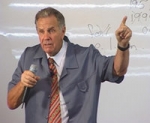 The Omega Times has been a monthly online magazine which has looked at world events in the light of Bible Prophecy. Initiated by the New Zealand 'End Times' evangelist and author Barry Smith the ministry and publication was taken over by Brian Hay and the late Allan Rasmussen.
In light of the rapid rate at which global events are unfolding as we head towards the New World Order and One World Government the Omegatimes web based ministry has redeveloped and restructured its operational base to provide subscribers and researchers with an uptodate web site service with daily news updates, Youtube embedded videos, indepth researched articles, and links to Facebook and Twitter.
An expanded lineup of writers and columists from around the world will provide editorial comment and disclosure on a wide range of subjects including the world political scene, global economics, secret technology and military buildup, popular and youth culture, One World Religion / New Age spirituality and its impregnation of the Christian Church, Apostacy, Global warming ... all within the context and backdrop of Biblical Prophecy.
The web based service is supplemented with monthly public meetings on Australia's Gold Coast, and international conferences and seminars from time to time. Teaching and resource material is also available, and the future plan is to reintoduce a quarterly monthly publication.