BARRY SMITH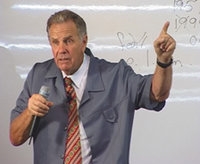 Barry Rumsey Smith (10 May 1933 - 27 June 2002) was a preacher and author from New Zealand. Smith travelled extensively preaching throughout the Pacific, Australia, New Zealand, the United Kingdom and elsewhere. He authored eight books with the theme of end times prophecy. His writings also appeared in his monthly newspaper Omega Times.
Smith was particularly concerned about One World Government and the Mark of the Beast, which he believed would be achieved through some form of modern technology such as barcode tattoos, or a subcutaneous chip used to replace money, such as those currently being sold by VeriChip. He repeatedly stated that he was not a prophet (more precisely that he had no supernatural prescient knowledge of further events) but that his analysis of global situations coupled with his understanding of biblical end-times prophesy led him to make predictions concerning near-future global events. Although many of his predictions were wrong in their timing, many are said to have come to fruition or are arguably on the horizon, such as the development of the subcutaneous RFID implant and the rise of terrorism, real or perceived, as well as the Middle East Conflicts. He also predicted the rise of globalisation as a precursor to a one world Government, and another globabl financial crisis on a par with the 1929 stock market crash. For Barry Smith, a "one world government" would be unquestionably something evil, this was a position born out of his end-times theology.
He was strongly Anti-Masonic. He often talked about the detail of the "great seal" on the US $1 bill, linking the symbolism to Freemasony, and the layout of certain landmark buildings in Washington DC in which he claimed could be found the Masonic square and compass, and the inverted pentagram.
Claims by Barry Smith
Smith wrote several books (see details below) and gave frequent public addresses, usually to audiences at churches both in major cities and small towns all around the world. His themes were principally Christian eschatology, conspiracy theory and a Christian evangelical message encouraging his audiences to accept Christ as their Saviour.
Many bold claims were made by Smith, both in his books and at his public meetings which were controversial. He preached/lectured using many anecdotes, many of which were not easy to independently verify. Frequently it was not clear through how many intermediaries a story had passed before reaching him and his audience.
Smith describes global warming as a "red herring." Smith claims there is no evidence that the greenhouse effect has begun.
HIV, the virus responsible for AIDS, was in fact deliberately made by the World Health Organisation and the US Army research institute in Fort Detrick, Maryland, is involved in secret biological warfare programmes against the "free world".
Further, Smith claims that ozone and hydrogen peroxide can be used to kill the AIDS virus when administered to the blood streams of those infected. Barry quoted the name of a doctor in Nairobi allegedly carrying out this procedure. There does not appear to be any independent or peer reviewed corroboration of this anecdotal c
A Russian cruise ship, the Mikhail Lermontov, which struck a rock in the Marlborough Sounds, New Zealand, and sank, in 1986   was the subject of a deliberate cover-up and conspiracy, involving possibly, espionage activities by the then Soviet Union's navy. Conspiracy theories concerning this sinking have persisted in New Zealand.
Smith was a proponent of the 9/11 conspiracy theories, claiming that the September 11 attacks were orchestrated by the US federal government.
He stated that he was not a prophet and admitted that he made mistaken predictions; he claimed that he was just "a commentator". Shortly before his death in 2002 he was forecasting an imminent worldwide financial and economic "collapse". At the end of 2008, that is one forecast whose fulfillment some would see in contemporary events.
His favourite song was "Amazing Grace", with which he ended his meetings and in his eyes his greatest success was not in forecasting future events, but in leading surprisingly large numbers of individuals to accept Christ Jesus as their Lord and Saviour. As with most Christian evangelists, there is no independently verifiable data source to consult in order to determine the lasting success of his evangelism. However, the churches he preached at appreciated his work greatly, and benefitted from it sufficiently to want to invite him back repeatedly during his lifetime.
Micro chipping
In an interview published in Challenge Weekly, a New Zealand Christian newspaper, Mr Smith commented on the collapse of the world economy and that the mark of the beast was already being advertised around the world. His belief was that it was a tiny electronic radio frequency chip that was placed under the skin. He said that animals were being chipped and that there were plans to put them on humans. The Ex-Catholics for Christ website reported that amongst the The New World Order and Trilateral Commission, micro chipping was one of the subjects he liked to talk about. Interestingly the Christian Witness Ministries website talks about Mondex implants and relates to and reflects on the words of Barry Smith who warned of the implanted microchip and the Mark of the beast. There have been cases similar to what Barry Smith has predicted. An example would be in 2008 when Verichip was set to implant patients suffering from Alzheimer's disease. Also Meritum Media website reported on a case where Suzan Shipper, a 57 year old woman who had her 84 year old husband who was suffering from Alzheimer's disease chiped, decided to have herself chipped as well. There have been reports of implants given to nite club patrons. Perhaps this could be considered to be the materialisation of his prediction. In the The Global 2000 Report publicatiion, Barry Smith listed several problems that would arose after the adoption of the plastic card system making it a temporary system. Because of the security limitations offered by plastic cards as mentioned on the Shasta website, he wrote "Reasons such as these will necessitate the cards being replaced by the marking system".