Councils use anti-terror powers to check for dog collars
By Jasper Copping
---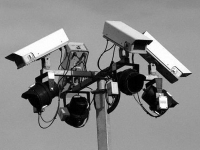 Councils have used anti-terrorism laws to try to catch people donating goods outside charity shops & to make sure dogs are wearing collars. The investigations, uncovered by The Sunday Telegraph, relate to the use by town halls of the Regulation of Investigatory Powers Act (RIPA).
The legislation, originally intended to combat terrorism and serious crime, gives councils the right to place residents and businesses under surveillance, trace telephone and email accounts and even send staff on covert missions. Critics say the findings show local authorities are using the powers needlessly, for minor issues.
Bromley council in south east London used RIPA powers to try to catch people leaving unwanted items outside charity shops. Officials first placed CCTV systems inside the windows of two charity stores for 10 days, then parked a "covert CCTV vehicle" outside one shop for two weeks.
Despite the 34-day investigation, no prosecutions followed. A council spokesman said the shops had asked for the investigation to go ahead, and said that the leaving of items outside the stores constituted fly-tipping. He added that among the items which had been left behind on previous occasions were broken furniture and cat litter.
In Workington, Cumbria, officials used the powers to investigate whether a dog was illegally being allowed out without a collar and tag. The animal was monitored and photographed in order to gather evidence.
Under the Control of Dogs Act 1992, owners can be fined up to £5,000 for failing to use a collar and tag. The officials were also checking whether the animal's owners were failing to clear up its mess. However, it is believed that no evidence was obtained. A spokesman for Allerdale council said the investigation was in response to a complaint from a resident about a particular dog.
One council even put whistle-blowing members of staff under surveillance and monitored them meeting a local newspaper reporter.
The survey comes just two days after the coalition Government announced it would ban councils from using RIPA powers unless the investigations were signed off by a magistrate and were needed to stop serious crime.