Obamacare: 63% Want Repeal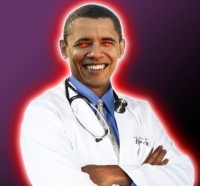 Support for repeal of the new national health care plan has jumped to its highest level ever. A new Rasmussen Reports national telephone survey finds that 63% of U.S. voters now favor repeal of the plan passed by congressional Democrats and signed into law by President Obama in March.
Prior to today, weekly polling had shown support for repeal ranging from 54% to 58%. Currently, just 32% oppose repeal.
Obamacare is not growing more popular with time. In fact, Rasumssen–which is one of the most accurate of these measurements around, based on election results–finds that now 63 percent want repeal. From the poll:
---

Date

Favor
Repeal

Oppose
Repeal

---

May 22-23

---

63%

---

32%

56%

39%

56%

37%

54%

39%

58%

38%

56%

41%

58%

38%

54%

42%

54%

42%

55%

42%

---
Why the refusal to sigh in resignation, and just go along? I think it is Greece. In the riots and the potential collapse of the Euro–beyond our scope here, I know–we see what happens when a society goes broke in a context in which large percentages feel entitled to government largess. That isn't the American way–or at least, hasn't been.
Perhaps Obamacare has come to symbolize
what people take to be a wrong direction.
---
To go to 'First Things' website ... Click Here