Brian Hay Prediction Confirmed "Silver will become more valuable than Gold"
by Logan R. Anderson - Editor Omegatimes
---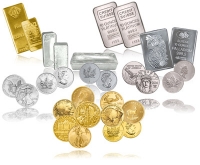 For some time now Brian Hay has been predicting an exponential rise in the value of gold, but also an even more expansive rise in the value of silver.
This prediction has been based both on personal research in the field of global economics and as a result prophetic insight.
There are three primary reasons for what will be an extraordinary rise in the value of silver over the following months and years:
The value of silver has been artificially suppressed and manipulated by JP Morgan. The scarcity of gold is 12 times greater than silver, but it's current value is 50 times greater than silver, but this is now changing.
The greater practical application of silver in industry and technology, compared to Gold, creating greater demand. This demand will continue to increase.
The recognition that value can only be represented in tangible assets - not paper assets, such as 'dollars' and 'paper money'. With the collapse of the US dollar and the fragility of other global currencies, along with the collapse of global finance houses and banking institutions - there is a growing trend to invest in that which is 'real'.
The following video clips provide further explanation and insight into this area.
---