Riot Squad called out to Arrest Old Men Playing Chess in a NY Children's Park
by Logan Anderson - Editor Omegatimes
---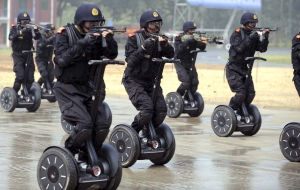 The United States Political, Military and Law Enforcement Multiplex continues to flex it's muscle with NAZI like tactics and values ... not only around the world, but increasingly within its own back yard, and toward its finest citizens.
Venerable old gentlemen cannot even enjoy a quiet game of chess in the park without legions of kevlar vested stormtroopers dropped by black silent helicopters, and wielding blue laser guided tear gas grenades descending to crush this seditious threat of rebellion and lawlessness that could undermine the US body politic (In jesting I exaggerate only slightly).
The sad truth and fact of the matter is that the United States increasingly reflects that sad state of reality we will face in these end times, where Evil and Good are inverted.
The innocent, weak, vulnerable, moral and just are overrun by the reigning agencies of corruption and evil - not unchallenged ... but oblivious to challenge. These include the Monsanto-FDA group, FEMA, CIA, Federal Reserve, and the Presidency itself, not to mention the shapers and definers of culture and values, such as Hollywood, Oprah Winfrey, etc.
As it says in Isaiah 5:20 - 23:
Woe unto them that call evil good, and good evil;
that put darkness for light, and light for darkness;
that put bitter for sweet, and sweet for bitter!
Woe unto them that are wise in their own eyes,
and prudent in their own sight!
Woe unto them that are mighty to drink wine,
and men of strength to mingle strong drink:
Which justify the wicked for reward, and take
away the righteousness of the righteous from him!
The following article has just been published on www.news.com.au reporting the arrest by riot squad police of old gentlemen playing chess in a children's park in New York.
---
Six men booked for playing chess in New York city park unaccompanied by a child
By staff writers

From:

NewsCore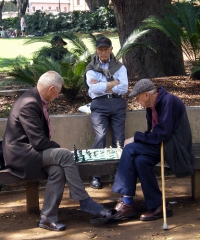 SIX men are facing court after being booked for playing chess in a New York park because a sign forbids adults from entering the playground area without a child.
The group - two of whom had been playing at the built-in chess tables for years - were booked in Manhattan's Inwood Hill Park in October by a group of police officers wearing bullet-proof vests.
The chess players were ticketed for "failure to comply with signs" because of a posted notice nearby that read, "Adults allowed in playground areas only when accompanied by a child under the age of 12."
Most of the men said they had not noticed the signs. One, Yacahuda Harrison, 49, told The Post he had seen the signage but had explicit permission from a park ranger to play there.
"The ranger said, 'Oh no, that's fine. That's only written for pedophiles,'" Harrison said.
Three of the six men who were slapped with summonses were given adjournments in contemplation of dismissals , meaning if they stay out of trouble with the law for six months, the matter will be dropped.
Two of the other chessmen turned down the deal out of principal, even though they face up to 90 days in jail and a $1,000 fine.
"They want to go to trial," said their lawyer, civil rights attorney Norman Siegel. "They feel the charges against them should be dismissed outright."
Mr Harrison rejected the judge's offer of an ACD and is expected to stand trial next week.
Mr Siegel said none of the men have gone back to the park since the incident.
---
Your thoughts and comments would be most appreciated