Australia Earthquake & Tsunami Prophecy
by Logan Anderson ~ Editor Omegatimes
---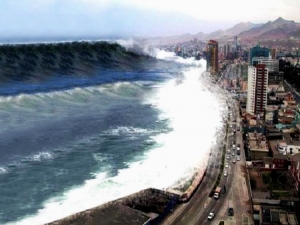 This is a very significant and major prophecy for Australia given in August 2010 by Kenyan Prophet Dr Owuor at a conference in Yahweh Adonai Church in Labrador, in South East Queensland, Australia. It's significance is highlighted by what is currently unfolding throughout Eastern Australia.
It is the goodness of God that leads to repentance, thus it so important His word gets heard before hand and acted upon as lives depend on it, and so people know what is going on.
---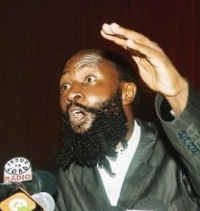 AUSTRALIA EARTHQUAKE & TSUNAMI PROPHECY
Dr Owuor - July & August 2010
There were two parts to it given on different days of the conference. in Queensland Australia in July and August 2010.
They were transcribed direct from the recorded message from Session 1 and Session 7.
Prophecy by Dr Owuor ~ 31st July 2010 (Session 1):
I have come to announce the controversy between Jehovah and the church in Australia, unless you repent it is going to be horrific. This is the eastern side of Australia … correct? Ive have seen the ocean failing to stop. Around all these places.
Yesterday He showed it to me TWICE. He and said "IF THEY DON'T REPENT, TELL THEM THAT THE OCEAN WILL FAIL TO STOP".
It is the same who went and warned Haiti, Chile and Yushu China, and Katrina 1 month and 9 days before it happened. Then everybody laughed and said `do you know how many satellites we have watching of the United States of America, it will not happen`. But on the day it happened, every word to the letter was fulfilled. Listen, why don't you rebuke sin in your churches."
Dr Owuor taught on specific areas of repentance required for the Australian Church in order to prepare for the Lord's soon coming:

Repent from all false prophecy, messages designed to make people feel good rather than deal with their sin
Repent from all types of sexual sin, including pornography, lust, and sexualised dressing
Repent from the abuse of God's grace, and the complacency & compromise with sin and the failure of leaders to rebuke sin
Repent from preaching the prosperity gospel that focuses on an out of balance priority on money & riches now
Repent from postmodernism, not believing all the scriptures of the bible are for today
Repent from building the empires of men in the church, and build the Kingdom of God in the church
Repent from preaching focused on improving lifestyle now, rather focus on preparing the bride to be without spot, blemish or wrinkle for Christs very soon coming
Reach the centrality of God's holiness, for without holiness no-one will see the Lord
Leaders need to mobilise God's people in repentance
---
Prophecy by Dr Owuor ~ 3rd August 2010 (Session 7):
"The time is coming when the Lord is going to open Heaven over this land, and the Holy Spirit is going to manifest a lot of works, the healing of people, delivering of people, regardless of where. But listen precious people. There is an earthquake coming to this land. The Lord spoke with me about a HORRIFIC EARTHQUAKE, AN HISTORIC EARTHQUAKE TO VISIT AUSTRALIA.

And I was there myself, I don't know, I guess you know how the Lord speaks to His prophets. He puts me in the earthquake, I also ran for my life today and the buildings collapsed on me, so I know what people will feel like on that day. And then, on the western horn the north west corner of Australia, He pushed the ocean, the earthquake pushed the ocean. And I see a huge wave a huge high speed wave, its a mountain of water pushed by the earthquake.

And the Lord said "THIS LAND MUST REPENT". The time to engage in sexual sin by the beaches is over because the Lord has sent me here now. Remove false prophecy from the church. Especially false prophecy, that one must be removed because its confusing the church at this hour. I can only speak for the Lord and the Lord He is righteous. Again, there is going to be a historic earthquake now that I have said it here. I see the buildings collapse and people cannot get away, and I see a lot of deaths. Yesterday He showed it to me and today He spoke to me about it, just a few hours before I came when He slayed me, and I went to sleep and He showed it to me again. AND THEN THE EARTHQUAKE CAUSES THAT HUGE PUSH OF WATER, A MOUNTAIN OF WATER, LIKE SO MANY STORIES HIGH, AND PUSHED, A TSUNAMI IS COMING, PLEASE REPENT.

DONT HANDLE THIS CARELESSLY LIKE THE PEOPLE OF HAITI DID.
Please don't do that.
Don't start prophesying on top of it He will strike you.
The Lord has spoken period.
Let us prepare for the coming of the King.
He has healed people here, He has loved people here.
He is a good God, He wants to love people, He wants to heal the land.
But let us return to righteousness, because this is the moment for Christ to be enthroned in this land
Even within the leadership, but let the church begin by repenting

I have seen a horrific earthquake visit this land, TREMENDOUS HISTORIC, don't handle this with carelessness, I warn you precious people, the Lord has spoken with me, don't fool around with this one.
Haiti fooled around
The people of Chile fooled around
Kenya fooled around
Yushu China fooled around
New Orleans fooled around before Katrina, 1 month and 9 days before when we sent the messages and they said people here don't believe that because they say there are many satellites that watch this nation, but it came to pass.

So don't fool around with this, IVE SEEN A LOT OF DEATH AND PEOPLE BURIED
These places He took where even the stairs hit me and buried me, so I had no way out, I had to be dug out, today.
I am speaking as it has happened and when these things come to pass, then you shall know that the mouth of the Lord, He has spoken here. Then you shall know that the prophet of the Lord has walked here.
Don't take this carelessly, please I beg you, I plead with you.
May the Lord bless you, that you may harken unto His voice."
---
Prophet Dr Owuor is considered to have a proven record as a prophet to the nations, who prophesied the follow events:
Haiti earthquake of Jan 2010, 2 months before it happened, called the nation to repentance, 300,000 died
Chile earthquake & tsunami of Feb 2010, 13 months before it happened, called the nation to repent from sin, 1300 died
China Yushu earthquake of April 2010, 6 months before it happened, called them to repent from worship of idols and eastern religions, 2500 died
Kenyan murderous violence of 2007, 2 years before it happened, called them to repent from complacency with sin, hundreds died in ethnic violence & chaos, and many went into refugee camps
Global Financial Crisis which started in Oct 2008, 1 month before it happened
He also prophesied Hurricane Katrina, and the 2004 Asian tsunami
Please check:
---
Please Note:
Dr Owuor's doctorate is reportedly earned in the secular field of science - not in the spiritual field of theology or associated subjects. This title of 'Dr' is used, however, in association with his ministry, and has drawn criticism as a result.
Omegatimes stresses that all prophecy should be judged in light of the Word of God, and by the extent to which it is accurately fulfilled.
Your views on this article would be most appreciated ... Please Comment