Priests Lose Faith In Their Church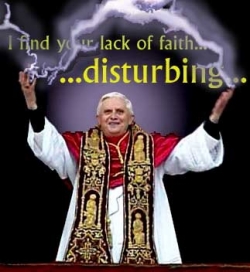 ONE priest said he learnt more about God from Alcoholics Anonymous meetings than the Catholic Church. Another compared the fervour of World Youth Day to the Hitler Youth.
And a 47-year-old, whose only ambition had been to be a priest, said: ''Given the state of the church today, I look forward to the night when I go to sleep and just don't wake up again."
Such were the varied, often frank and sometimes bleak views of Australia's Catholic clergy revealed in an anonymous survey.
The Charles Sturt University academics Chris McGillion and John O'Carroll approached 1550 active and 160 retired priests for their views on their lives and their church, and 542 took part in the written survey.
The results, plus 50 face-to-face interviews, were the basis of their book Our Fathers, which revealed that many thought the Vatican was out of touch, bishops were bad managers and the future of the church was a cause of great concern.
---
To read the rest of this article at the Sydney Morning Herald ... click here