Is There Anything Wrong With Rob Bell's Gospel?
---
"I'm usually quick to speak my mind. But in the case of Rob Bell's controversial book Love Wins, I've withheld comment until now because: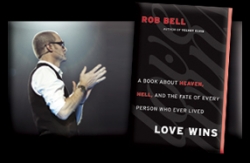 1.) I don't think Christians should judge books before reading them;
2.) The theological issues addressed require careful analysis
3.) I have manyb young friends who are fans of Bell's books, and they may write me off if I don't treat him fairly
So I'll begin with a compliment. Bell is a masterful writer whose prose is poetic. As pastor of the 7,000-member Mars Hill Bible Church in Michigan, Bell has gained a following because of his casual style, his ultra-cool Nooma videos and the previous books he's released with Christian publisher Zondervan (especially Velvet Elvis).
---

"Bell's core theme is that Christians have been
too narrow in their view of God and His mercy.
He argues that God loves people too much to
banish them to hell. In the end, he says, after
this life is over, everybody will find ultimate
reconciliation in Christ."

---
With Love Wins, he's taking his message mainstream. HarperCollins published it, and Timemagazine featured a cover story in April about the firestorm Bell has triggered among conservative Christian leaders who have accused him of heresy. So what's all the fuss about?
To read the complete article at "Charisma" ... click here