Street Preacher Charged for Saying God regards Homosexuality a Sin
Al Webb, Religion News Service, 1 Jan 2012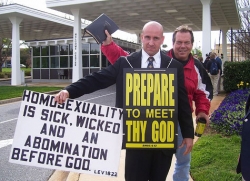 A Christian street preacher in Britain will stand trial for telling a passerby -- in earshot of a policewoman -- that God views homosexuality as a sin.
Police arrested Dale McAlpine, a 42-year-old Baptist, under Britain's Public Order Act 1986.
This legislation  forbids "using threatening, abusive or insulting words ... tending to and causing harassment, alarm or distress."
McAlpine told The Daily Telegraph newspaper that he was arrested after a part-time police officer said she heard him reciting a list of "sins" against God, including blasphemy, drunkenness and same-sex relationships.
The preacher denied mentioning homosexuality, but he did concede he had told a passing shopper that it was a sin in the eyes of God.
At a magistrates court hearing in Workington, England, on Friday, McAlpine pleaded not guilty to the public order offense charge but was arraigned for trial at an unspecified date.
"My freedom was taken away on the hearsay evidence of someone who disliked what I said, and I was charged under a law that doesn't apply," he said.
The newspaper report said McAlpine was fingerprinted, given a DNA swab and retina scan, and was locked in a police cell for seven hours on April 20.
"I am not homophobic," he insisted, "but sometimes I do say that the Bible says homosexuality is a crime against the Creator."
McAlpine's arrest comes days after a top British judge was criticized for ruling that Christian beliefs are not entitled to special protection under the laws of the nation.
First published by Al Webb, Religion News Service, May 4th 2010