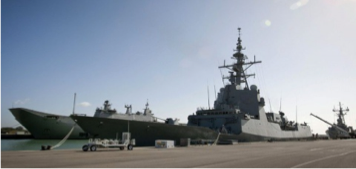 A Russian attack plane engaged in "provocative" acts Saturday towards the destroyer USS Donald Cook in international waters, the Pentagon informed on Monday evening.
Over the course of about 90 minutes, a Russian SU-24 fighter jet made 12 "close-range, low-altitude" passes near the Cook while the ship was in international waters in the western Black Sea near Romania, Pentagon spokesman Col. Steve Warren told reporters.
Warren did not say how close the Russian plane came to the USS Donald Cook, but it didn't overfly the ship. Warren said the aircraft did not respond to multiple queries and warnings from the Cook. No shots were fired and the plane appeared to be unarmed, based on visual observations made by those aboard the Cook, Warren said.
Another SU-24 was also flying in the area, but not as close to USS Donald Cook as the other one, according to Warren."The event ended without incident," Warren said. "This provocative and unprofessional Russian action is inconsistent with international protocols and previous agreements on the professional interaction between our militaries," Warren said.
Warren said there have been no communications between the Pentagon and the Russian ministry of defense since the incident. The Cook arrived in the Black Sea last Thursday as the US military tries to reassure allies in the region in the wake of Russia's annexation of Crimea last month and a large Russian military buildup on Ukraine's eastern border. The ship was conducting "routine patrolling" at the time of the incident and is now in port in Romania, according to Warren. Meanwhile, Romanian president Traian Basescu said a third US battleship is expected to sail into the Black Sea within several days.
- See more at: http://www.novinite.com/articles/159820/Pentagon+Informed+of+A+'Provocation'+by+Russian+Fighter+in+Black+Sea#sthash.JER0HJpe.dpuf